Reserve online
Hotel Alizé Grenelle Tour Eiffel Paris
and save with our discounted rates
CURRENCY: U.S. dollar USD

Euro (EUR)

Pound sterling (GBP)

U.S. dollar (USD)

Canadian Dollar (CAD)

Swiss Franc (CHF)

Yen (JPY)

Australian Dollar (AUD)

Yuan (CNY)

Rouble (RUB)

Rupee (INR)

Czech Koruna (CZK)

Norwegian Krone (NOK)

Danish Krone (DKK)

UAE Dirham (AED)

Brazilian Real (BRL)

Hong Kong Dollar (HKD)

Jordanian Dinar (JOD)

Malaysian Ringgit (MYR)

New Zealand Dollar (NZD)

Omani Rial (OMR)

Kina (PGK)

Romanian New Leu (RON)

Saudi Riyal (SAR)

Swedish Krona (SEK)

Singapore Dollar (SGD)

Thai Baht (THB)

CFP Franc (XPF)

South African Rand (ZAR)

Moroccan Dirham (MAD)

Argentine Peso (ARS)

Taiwan Dollar (TWD)

Kuwaiti Dinar (KWD)

Bahraini Dinar (BHD)

Icelandic Krona (ISK)

Philippine Peso (PHP)

Bermudian Dollar (BMD)

Paraguaian Guarani (PYG)

Brunei Dollar (BND)

Polish Zloty (PLN)

Shekel (ILS)

Mexican Peso (MXN)

Fiji dollar (FJD)

Qatari Riyal (QAR)

Kazakhstan Tenge (KZT)

Belarusian Ruble (BYN)

Namibian Dollar (NAD)

Uzbekistani Som (UZS)

Dobra (STN)

Honduran Lempira (HNL)

Malagasy Ariary (MGA)

Convertible Mark (BAM)

Indonesian Rupiah (IDR)

Colombian Peso (COP)

Tunisian Dinar (TND)

Turkish Lira (TRY)

Vietnamese Dong (VND)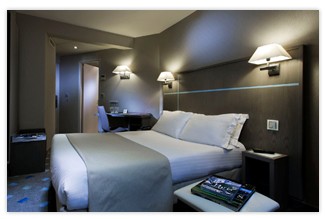 If you are looking for a charming, comfortable and relaxing stay, the Hotel Alizé Grenelle is the perfect choice for your next sojourn in Paris.

Are you in the city for a business trip or for a pleasure trip? We have always the right solution for you. 50 elegant and refined rooms, characterized by chosen fabrics and colours, in order to offer you the best stay, right calm and relaxing ambience ideal after a busy day spent at work or among the beauties of the city.

We are situated at a few steps from the main monument of Paris, the Eiffel Tower, but it is not all: the hotel lies close to Marte Champs, Trocadero and Ivalides.

This tranquil hotel is located in an elegant district and offers a perfect rest. Moreover, the structure is provided with perfectly air conditioned ambiences and every modern technology, like flat screen satellite TV.

Private and secured parking is available 50 metres from the hotel with an extra cost and upon prior reservation.

Enjoy the wonderful Beaugrenelle Commercial Center, its shops, restaurants and cinema. Just 2 minutes walk from the hotel.
Give us your Feedback
Hotel Alizé Grenelle Tour Eiffel, 87, Avenue Emile Zola - Paris